I'm still way behind on updating this blog in a timely manner, with Duryea Hillclimb behind us and Shenandoah (at Summit Point) coming up next weekend, but this blog got mentioned in the SCCA Up to Speed newsletter, so I guess I'd better get my act together!
For anyone just reading this blog, I have an 86 and an 87 VW Scirocco, and have been hillclimbing since 2005 (the 87 is still street legal and is my "backup" car). My only other racing experience prior to hillclimbing is autocrossing. I am not a fast driver most of the time, but I still have a lot of fun flinging my car around the turns. For me, a huge part of the PHA hillclimb experience is the chance to hang out with rest of the PHA "family" — the other drivers, workers and crew members — and that is what keeps me coming back.
Anyway, onto Polish Mountain Hillclimb 2021, which was held Aug 7-8. This event is run by the newly formed Western Maryland chapter of WDCR region, and WDCR's Straightpipe August Newsletter had an excellent write-up on the history of this event.
The Western Maryland Chapter arranged to get the course repaved in 2020. When the course was repaved, they also corrected some of the issues with the entrance / exit to the pit area. Unfortunately, this event was cancelled in 2020 due to COVID, so this year was our first opportunity to run on the brand new pavement. If you are curious, there are pictures of the new pavement on the The Courses area of the PHA website.
I think it's safe to say that the new pavement made a difference, as there were 13 class records set. In 3 classes, the old class record was beaten by the first 2 drivers in class. I know that I found that the road was not only smoother, but a bit wider in some places.
Bryan Fritzler took FTD in his 1973 Tui BH3 that he runs in the PHA supplemental class Special 1 (S1) with a 52.292.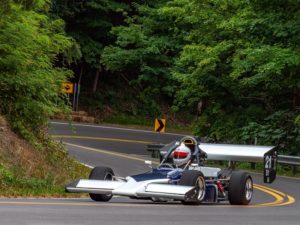 Photo credit Bob Helton
Dan Foley in his 2008 Mitsubishi Evo X came in 2nd overall with a 54.028, beating Ron Moreck in his Norton by just 0.235 seconds.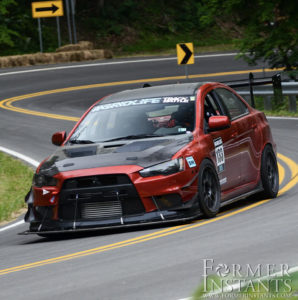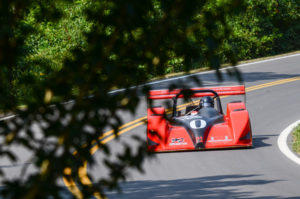 Photo credits Former Instants
Of the cars that ended up in the top 10 cars at this event, only 4 are purpose-built race cars. The rest are "door slammers" and started out as production cars.
Mike Robinson wrote a great wrap up of the event on the unofficial PHA facebook page, and here are some highlights:
We also saw
B
ryan M
cCrea
and
Tim Lewis
having a great battle for DSP and the class record. Both beat the record but Bryan came out on top. Awesome job guys.
Dan Foley
hosed his old SM record in the back up Evo to a time of 54.0!!! That's a real street car too!
Kristen Leah
almost beat her dad
Rick Johnson
in SMR but came up just a half second short. So close!!!!!
Ron Moreck
had a nice weekend and a time of 54.2. Looks like you're starting to get more comfortable in that beast!
I thought FTD was going to be a battle but car issues made George Bowland park it, and Bryan Fritzler walked away with it to a tune of 52.2. Nice!!!!
Dave Cutchins
and
Timm Murph
y
had a nice battle going on as well. Dave squeaked by with only a 10th to spare.
SMF was great to watch as well.
Hunter Huffman
and
Matt Phillips
were keeping it close with Matt ultimately taking it with a great 57.245.
As far as my car goes, I somehow slid off the pavement on my first run, despite my normal "taking it easy" plan that goes for every event for the first run of the day. I thought I was going to make it, but I spun around and just kissed the guardrail with the rear quarter panel.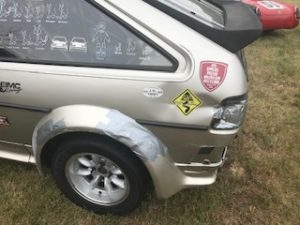 All fixable temporarily with duct tape, and thanks to my competitors in GT3 for the help in changing tires – the rears were corded on that run which I'm going to blame for the spin!
It's the end of the era tire wise for me, as I'm finally having to move to Hoosier A7s. The bias ply cantilevered slicks are no longer available from Hoosier now (at least not in a soft enough compound for hillcimbs), and I was stretching them out as long as possible. Anyway, my times were still really off even after I put A7s on, so it is clear that the driver still needs a bunch of work…
Here are a few random photos from the event, mostly from the 2 sites listed above.