I couldn't make Giant's Despair Hillclimb this year, held July 10-11, 2021. I did follow it from afar and saw that George Bowland broke Bryan Fritzler's FTD win streak with a 42.093, beating Bryan by .03 seconds. Wow!
Here is George's car: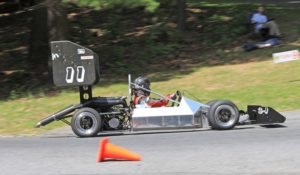 And here is George and Bryan having a discussion! What I really love about the PHA events is that while most of our drivers are competitive, we also enjoy the camaraderie — this is not cut throat racing by any means!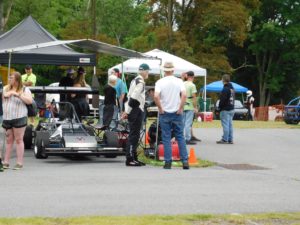 Since I wasn't at the event, with Mike Robinson's permission, I'm posting his weekend wrap up instead – he posted this July 15, and I've already mentioned that I'm really far behind in keeping up with this blog, so bear with me!
—
It's taken a little bit, but here's your weekend wrap up!
I'd like to first give a big shout out to Bill Feist and Brian Halecki. They had a little more work then usual for this years event, but they got it all done.
Thanks for everything you do!
The weather for the most part was pretty good. Saturday was rain free, Sunday saw a quick rain shower. Some people packed up early and split. Shame on You! Lol!!!! We had totally dry conditions by lunch.
We had some more tight battles this weekend. Some between friends and some between family. It was awesome to watch!
-ITA had Ray Kochin and Dustin Halechko going for it in the same car. Ray prevailed by just .44 secs. Keep putting that work in Dustin. Your are making Ray earn it.
-SSM had father and son doing battle in the same car as well. Matt Jones took the win from his father Dan by just .118!
-SMF saw Matt Phillips walk away with first place and a new class record but Jason Fraley fought hard to take second from Hunter Huffman. Jason got it done after the rain on Sunday.
-T2 had husband and wife Gibby Bozicevich and Kristie Reid bearing each other up. Kristie took the lead while Gibnybwas help me out the Vette back together. In the end Gibby took it back for the win!
-First overall and FTD was a four way battle! This is getting awesome! I can't remember a time when overall was a battle and now it's happend a few times this year alone with a door car in there for good measure!
George Bowland won overall but he never had a comfortable lead!
Bryan Fritzlar was just .030 behind and Mark Aubele was just a mere .005 behind that for third and Ron Moreck was another .049 behind that.
42.093 in first to 42.177 for fourth. Wow!!!!!!!
Mark also got the fastest door car time! Hopefully I can finish the orange P.O.S. soon. I want in on the action.
My weekend personally was a little rough. I'm still nursing a bad back. Donna managed to "ding" the Vette up a little Saturday morning. I can't thank the people who stepped up to help enough.
Gibby, Trevor Filipowicz, Mike Axarlis, Jordan Gens, Michael Companym and Kenneth. You guys rock. I'm so grateful!!!!
We got the Vette cobbled together enough to some how run all day Sunday. Some welding, some hammering, and too many zip ties. Mainly I just wanted to get Donna back out there. I didn't want here to sit and dwell on it for 3 weeks. Most of us have been there before. You know what I mean!
Honorable mention goes to Pheadra. Our Pokemon Queen. She got schooled by a nine year old!
Lastly and as always….thank you to our workers and officials.
None of this happens with out you All!
To those of you going to the Dragon…..good luck! I know you'll do us proud.
See the rest of you at Polish Mtn.
Bring plenty of gas.