Spring Weatherly Hillclimb was last weekend – June 13-14, 2021 – and it was great to be back at a hill again! There was a huge turnout, with 99 timed entries, and we somehow managed to fit all of the cars and campers into the pit area. Thanks to everyone who put their trailer in the foundry parking lot to help relieve the space issue in the pits!
It rained Friday afternoon into late-night, so the course was wet when we started running on Saturday morning. We also had some more rain overnight Saturday, so the course never completely dried out all weekend, especially at turn 1. At least it wasn't cold, but I'm sure that I can speak for everyone in wishing for a little more sunshine.
Bryan Fritzler took FTD with a 49.989 in his 73 Tui BH3 that he runs in Special 1.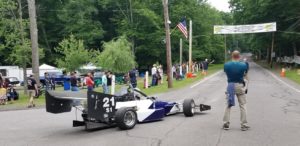 George Bowland took second place in his 03 BBR Cheeta that he also runs in Special 1, and was only .252 seconds behind Bryan with a 50.241. Liam Ryan was third in his 17 Crosskart Ex, also in Special 1, with a 51.095. The Weatherly course record is 47.592 set by George Bowland in 2012, so these are very impressive times given the conditions. I don't have pictures of either of these cars unfortunately, but I will add them later if I find some.
There were 2 "door slammers" in the top 10, and they deserve mention! Mark Aubele in his 03 Ford Mustang in SPO came in 4th with a 52.220.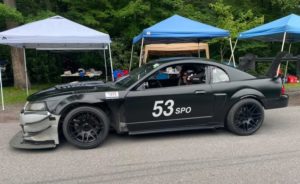 And Eric Johnson in his 79 Ford Mustang in SMR came in 10th with a 56.287.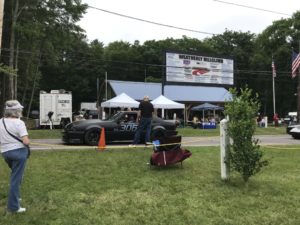 I'm sure that most of you know that we lost Nelson Kase over the winter. Steve Lewis has taken over timing and is doing an amazing job. There were a couple of hardware issues during the event, but timing ran very smoothly otherwise. Steve was able to take a few runs in his own 2019 Ford Mustang GT that he runs in ESP, and took the class win with a 57.628!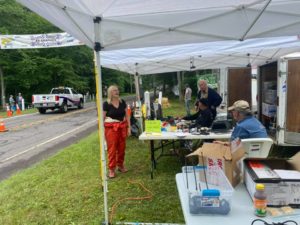 We were all really happy to see Rod Holtzapple return! His 63 Thunder Road, aka the Varmint, was a sight for sore eyes!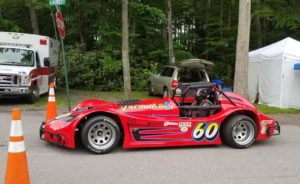 One of my favorite pictures of the weekend was this one, with Ursula Whisler, Donna Robinson and Kristen Hack supporting Kacey Avril. It is really great to see so many women racing!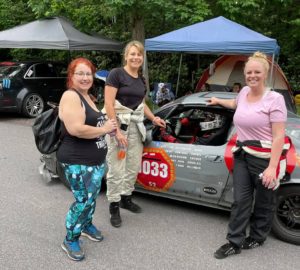 As far as my car goes, I am still running my FSP 87 Scirocco 16V, as the GT3 car isn't ready – the part we were waiting for was lost in transit. My times were comparable to the last time I ran this car at Weatherly, and I was quite happy with it. My mostly stock car may be slow in the straights, but is still quite a lot of fun to fling around the turns!
And speaking of Sciroccos, here's a great shot of turnaround from James Apgar, who has the Jetta in between the Sciroccos.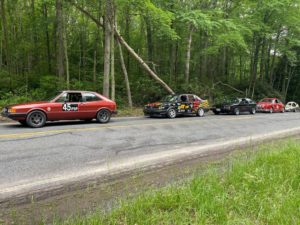 Our next event is Pagoda Hillclimb in Reading on June 26-27. Hope to see you there!