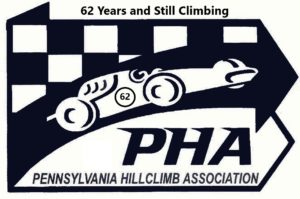 The Pennsylvania Hillclimb Association, better known to our friends as PHA, was founded in 1959 and incorporated in 1963. It was created to standardize the rules between the many hillclimbs of the time.
From that beginning, some hillclimb sites have passed into history while new ones have been added. As for the drivers, many of the names and faces have changed, but the thrill, excitement, and spirit of the sport races on. Through it all, we have remained an enthusiastic group of clubs, events and racers, eager to test our vehicles and driving skills on tracks and winding uphill roads in the Northeast.
Almost every driving enthusiast has a favorite stretch of road; the one where you know ever cure, dip and bump in the pavement. And we have all wondered the same thing: "How fast can I take that turn?" Unfortunately, safety and legality make that a question we shouldn't answer. But hillclimbs are a chance to test ourselves and our cars on some difficult uphill climbs free from worry about oncoming traffic, pedestrians and doing it legally.
We are more than just a chance to drive fast. We are even more than a group of drivers to compare times against. We are a group of friends always ready to welcome a newcomer interested in joining the sport.
If any of this sounds interesting, consider coming out to one of our events and seeing first hand what it is all about. The many drivers and officials would be more than glad to show you around and answer your questions. Please also take a look around our website, where you will find valuable information as well as contacts for specific types of questions.
We are always looking for new participants – both racers and volunteers – and an answer is rarely more than a click or call away.
The PHA hillclimbs are sanctioned through the SCCA (Sports Car Club of America) and all drivers require an SCCA membership.